Spotting Millennium Mileposts
My LEJOG route took me along miles and miles of the National Cycle Network and with this I passed many of the Millennium Mileposts that dot the UK. While I may have missed a few along the way, I did try and take a photo of the signposts I noticed along the way,
These cast iron sculptures were created across the UK National Cycle Network to help cyclists and other users navigate the many cycle paths. Each milepost that I discovered was in a different state of repair, some unkempt and in need of restoration and others well maintained and loved.
There are over 1000 Millennium Mileposts situated in all sorts of places and each one has been decorated in different colours. Here is a rundown of the Millennium Mileposts I encountered along my journey from End to End
MP475 Millennium Milepost St Columb Major, Cornwall NCN32
I came across this milepost on day one, situated on the edge of St Columb Major in Cornwall. It represents NCN Route 32 which is a route connecting Bodmin and Truro via Newquay and Padstow. It is situated on the side of the busy A3059 where route 32 crosses.

The post could do with a spruce up in June 2022.
MP779 Millennium Milepost on the Granite Way NCN 27
NCN Route 27 is the Granite Way, a fantastic off-road cycle trail on the edge of Dartmoor. I noticed this on day two of my Lands End to John O'Groats cycle ride.
Situated between Lydford and Oakhampton this sign was well-kept and prominent on the side of the trail.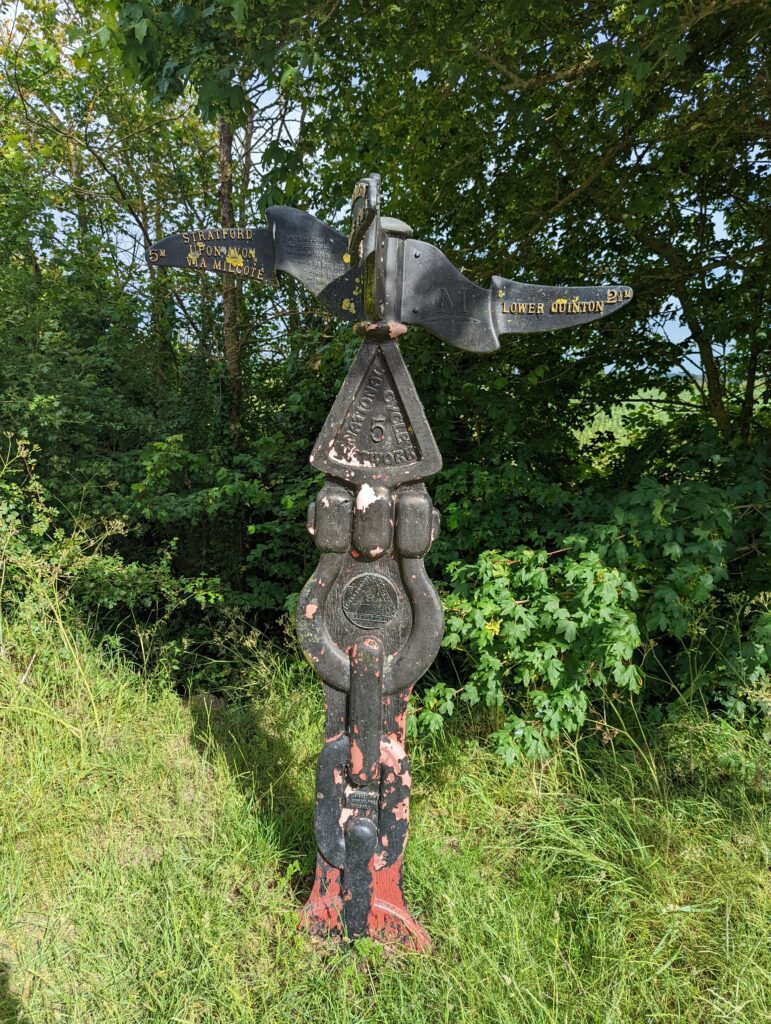 MP269 Millennium Milepost on Stratford Greenway NCN Route 5
The Stratford Greenway is part of NCN 5 which links Holyhead and Reading. I had the pleasure of cycling part of this long-distance cycle route on day 7 of my LEJOG ride.
Situated close to Long Marston and 5 miles from Stratford Upon Avon this sign could do with a lick of paint.
The cycling part of NCN Route 5 and the Stratford Greenway was an excellent end to my ride from Gloucester.
MP1014 Millennium Milepost near Belton in Leicestershire on NCN 6
This gold and green milepost caught my attention on day 8 of my ride. Situated in Belton, Leicestershire it represents NCN Route 6. NCN 6 is a long-distance cycle route linking London with Threlkeld in the Lake District.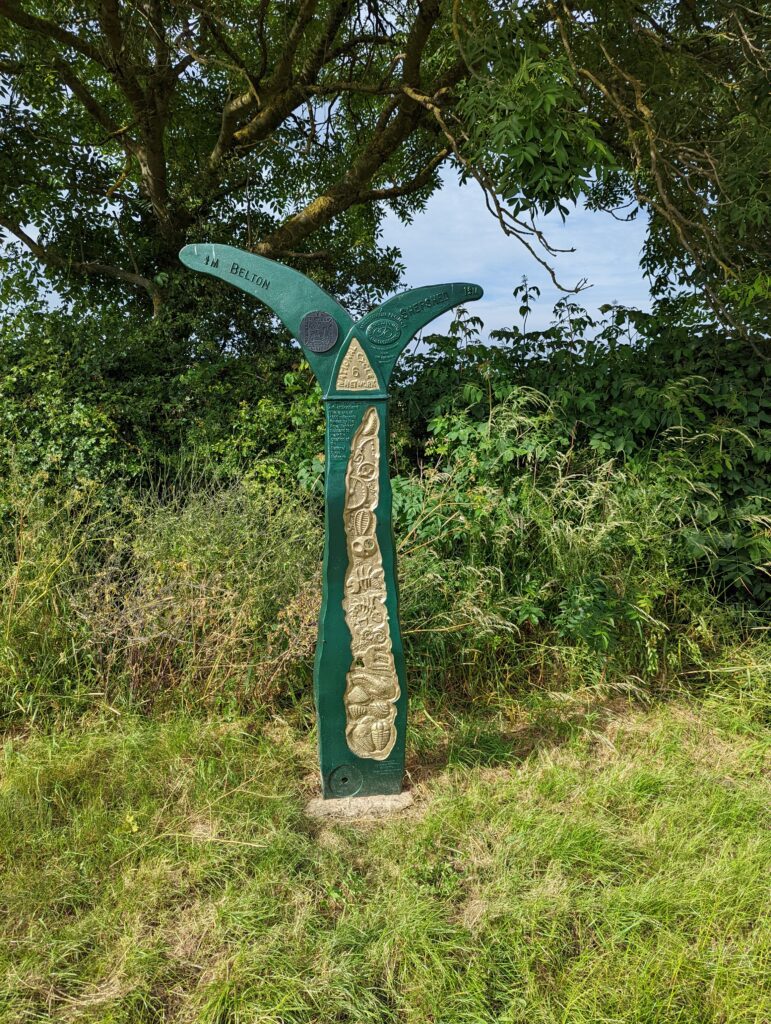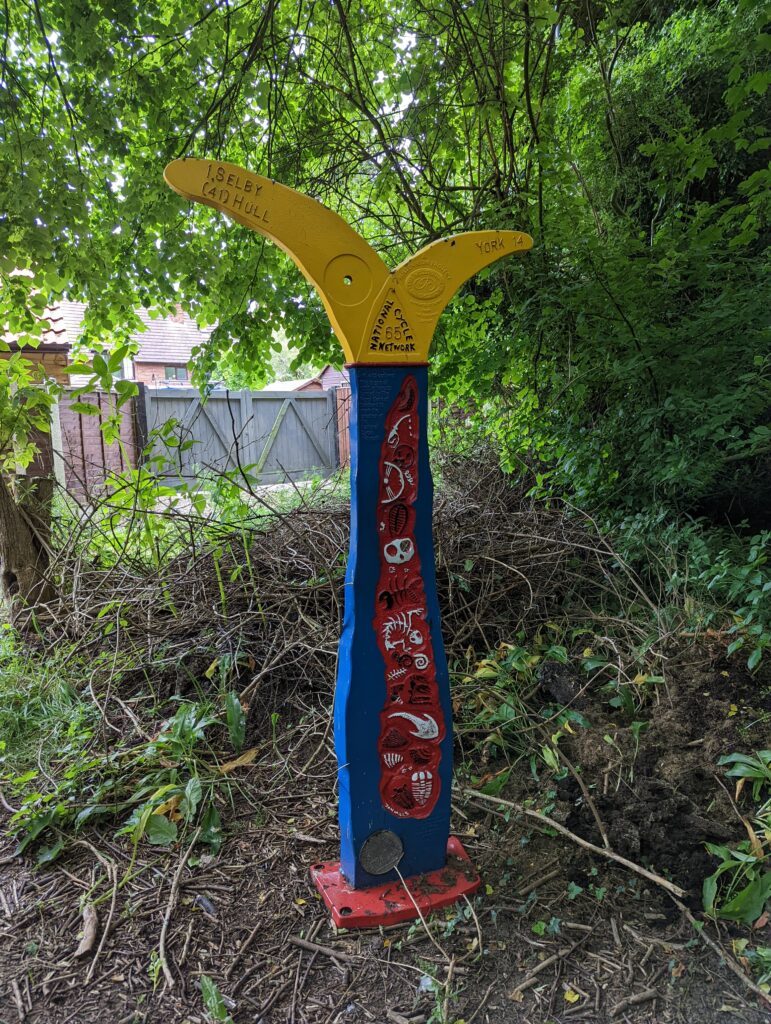 MP96 Millennium Milepost in Barlby, North Yorkshire NCN 65
As I cycled from Gainsborough to York on day 10, I came across this bright yellow, red and blue milepost in the village of Barlby.
Representing NCN 65 which is a cycle route stretching from Hornsea to Middlesbrough.
I remember finding this tucked away as I left the town of Selby on one of the parts of the National Cycle Network that I could not fathom.
MP191 Millennium Milepost Ryhope Sunderland NCN
Millennium Milepost MP191 was the first of three that I discovered on day 12 as I cycled from Middlesbrough to Newbiggin By the Sea.
Situated in a very odd place and one a section of the NCN 1 that I thought was totally pointless due to very poor infrastructure.
It can be found on parkland and marks NCN 1 as it leaves the seafront just South of Sunderland.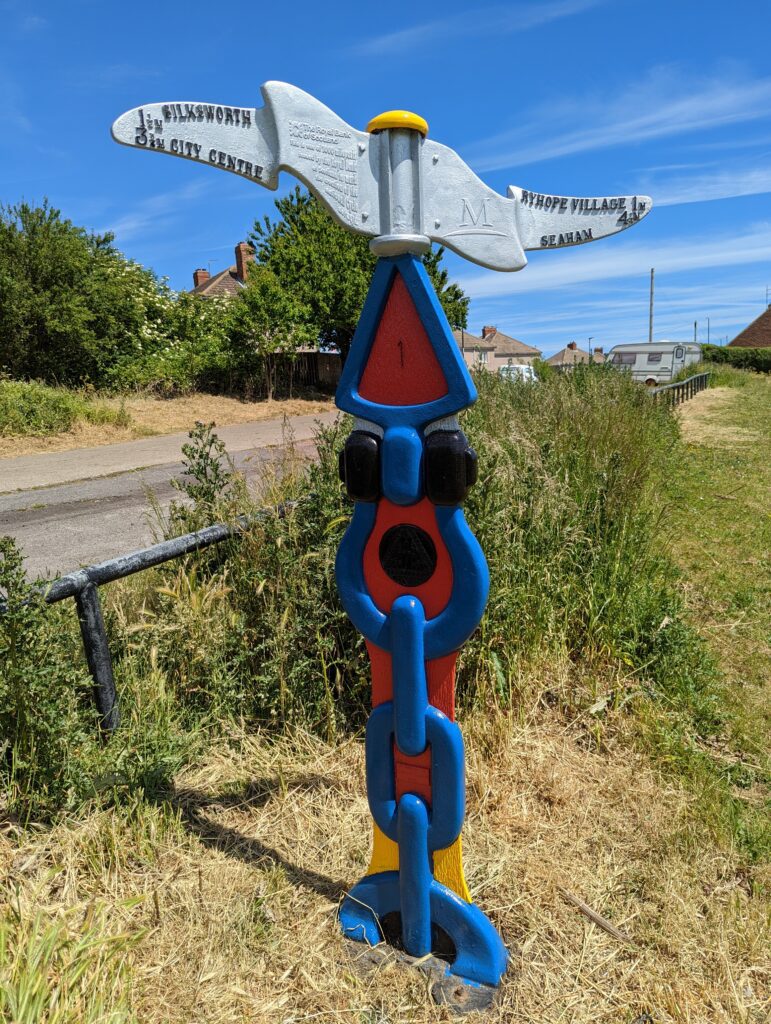 MP144 Millennium Milepost at Fulwell, Sunderland NCN 1
Just north of the River Wear crossing on NCN 1 this sign can be found on the promenade at Fulwell.
Perched above the beach it is painted in terracotta and gold paint.
MP79 Millennium Milepost at Whitburn, South Tyneside NCN 1
MP79 is situated close to the famous Souter Lighthouse. Painted black and vandalized with anarchist signs it is on the road close to the beach at Whitburn.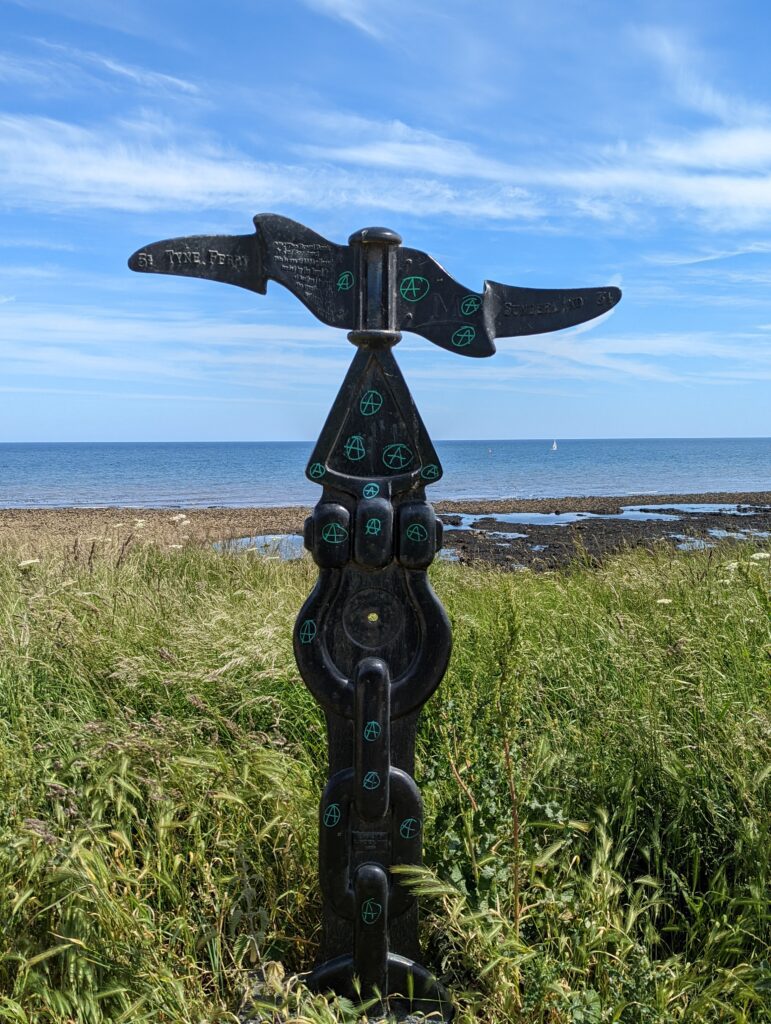 MP699 Millennium Milepost at North Seaton in Northumberland NCN 1
The first of three Millennium Mileposts I found on the way up Northumberland. This bright red and yellow signpost was situated near North Seaton.
I encountered this towards the end of day 12.
MP700 Millennium Milepost at Bebside, Northumberland NCN 1
Painted gold MP700 Millennium Milepost can be found near Bebside in Northumberland on NCN 1. this well maintained sign stands out.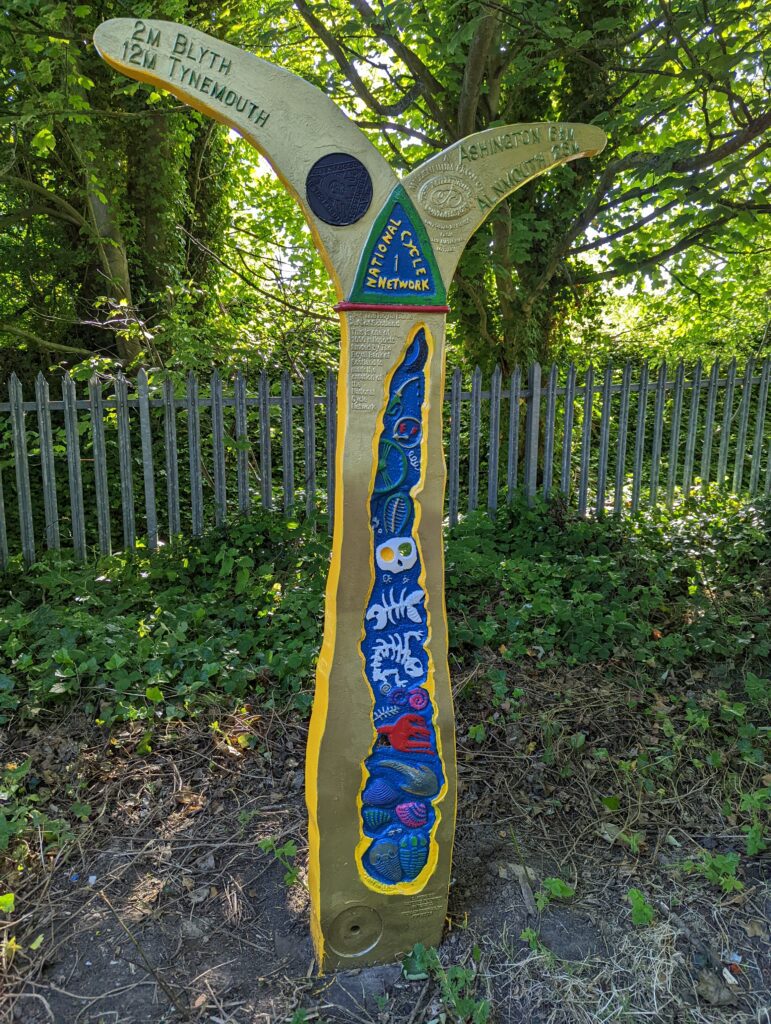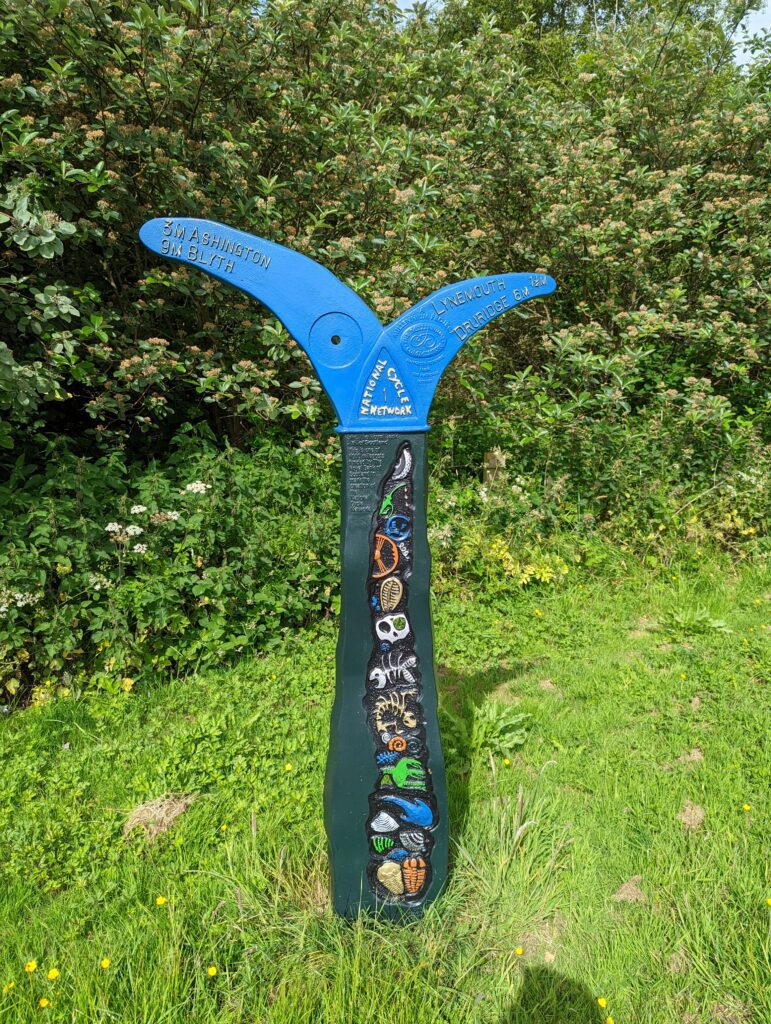 MP234 Millennium Milepost at Woodhorn, Northumberland NCN 1
At the start of my 13th day, I found this Millennium Milepost on NCN 1 close to Woodhorn in Northumberland.
This nicely decorated sign was on what I thought was a really good stretch of NCN 1.
MP697 Millennium Milepost Alnmouth Northumberland NCN 1
Another NCN 1 Milepost MP697 can be found near the saltmarsh at Alnmouth in Northumberland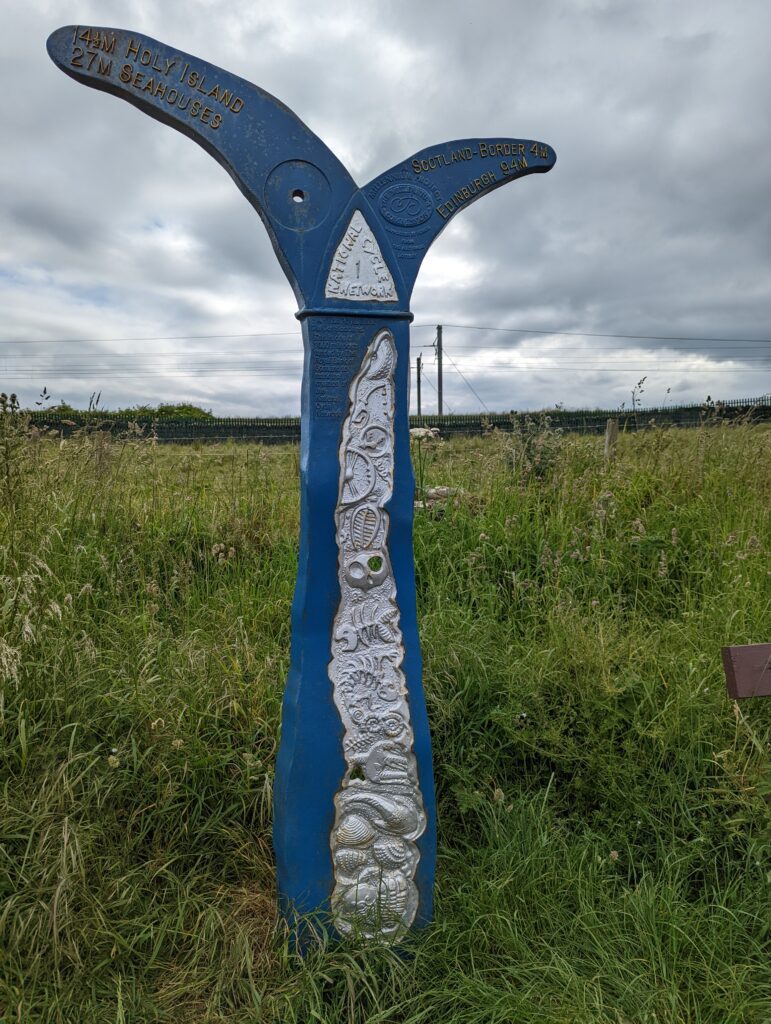 Millenium Milepost Berwick NCN 1
I am unable to find the MP code for this sign however it was the last milepost I passed in England.
At the end of a long day 13 it was situated just South of Berwick upon Tweed.
MP333 Millennium Milepost Edinburgh NCN 75
One of Andrew Rowe's designs this Millenium Milepost can be found close to central Edinburgh. I passed this sign on day 15 of my ride.
Millennium Milepost MP378 Queensferry NCN 1
On day 15 I notices this milepost as I approached the Forth Road Bridge. Situated on the south side of the bridge in Queensferry it represents NCN 1.
This post was designed by Andrew Rowel it has a unique chain design and was in very good condition.
Millennium Milepost MP375 Crask-Inn NCN 1
On day 20 of my ride and after a night at the Crask Inn. I noticed this sign when I set off in the morning. Situated right across the road from the Inn on the side of the A836 this milepost represents NCN Route 1 in Scotland.
Probably one of the remotest posts on the cycle network it was well looked after.
What are Millenium Mileposts?
Millennium Mileposts are a series of 1,200 markers located along the length of the UK's National Cycle Network. The cycle network, which was created by the charity Sustrans, is a series of traffic-free paths, quiet lanes, and on-road routes that allow cyclists to travel across the UK in safety and comfort.
The Millennium Mileposts were installed in the year 2000 to celebrate the start of the new millennium, and to mark the completion of the National Cycle Network. Each milepost is made of cast metal and stands about 1.5 meters tall. They are numbered from 1 to 1,200, with each number representing one mile of the cycle network.
The Millennium Mileposts are designed to provide a sense of achievement and progress for cyclists as they travel along the National Cycle Network. They also serve as a useful navigation aid, allowing cyclists to keep track of their progress and distance traveled.
In addition to their practical use, the Millennium Mileposts are also a popular photo opportunity for cyclists and tourists alike. Many people enjoy taking photos of themselves or their bikes next to the mileposts as a memento of their cycling journey.
Overall, the Millennium Mileposts are an important part of the UK's National Cycle Network, providing a sense of achievement, navigation aid, and photo opportunity for cyclists of all abilities.
For more information on the whereabouts of all the Millennium Milepost's that dot Great Britain, see the Sustrans website.