Waking up on what was to be the hottest day of 2022 so far, my goal was to get as far North as possible. The reason for this was I was going to be joined by my family for the evening where ever I ended up. After consuming a large breakfast in yet another Wetherspons I was on my way. Looking at the route ahead it was going to be a relatively straight forward day!
My first goal was to get to the city of Nottingham which was around 20 miles away. My stay in Loughborough was a few miles off my planned route so I cycled the 3 miles up to the village Hathern and I picked up the Easy East Coaster route again.
Passing through the villages of Sutton Borrington and Kingston on Soar heading for Nottingham I could see the huge Uniper Technologies Power Station dominating the skyline. This was the first of a few power stations I would see on route.
After a few more miles of easy cycling I found myself on the outskirts of Nottingham cycling through Clifton and then Silverdale.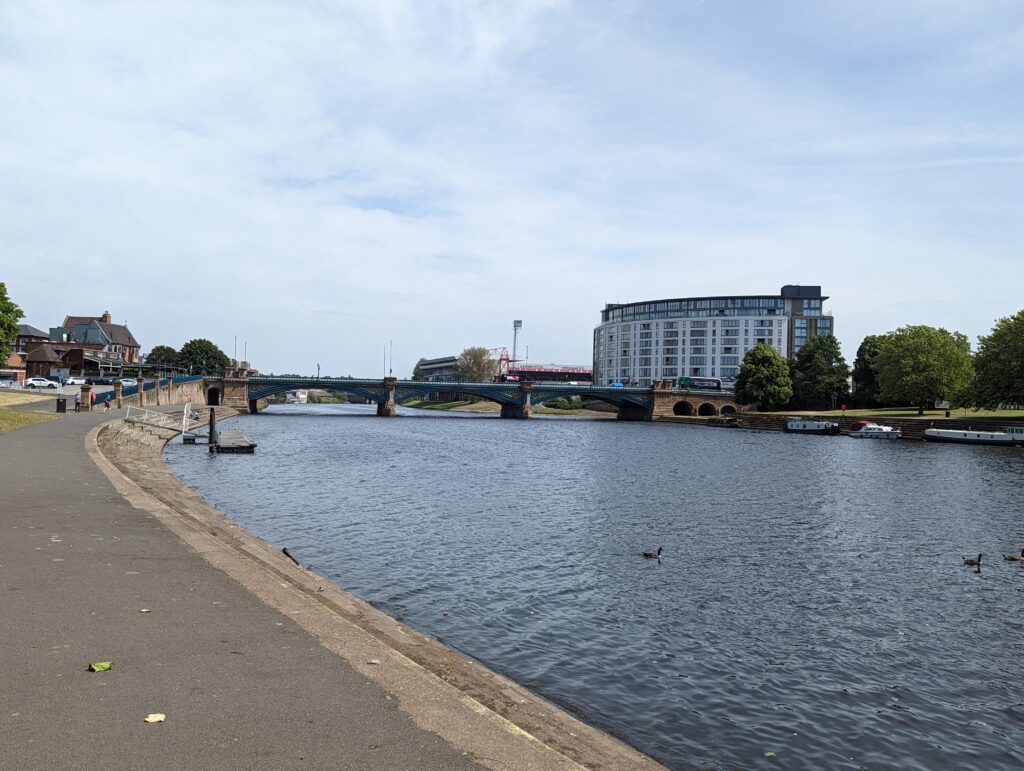 The cycle infrastructure in Nottingham was good and I followed the route of one of Nottingham's Trams before emerging on to the banks of the River Trent. I eventually crossed over the River Trent and I could see the City Ground, home to Nottingham Forrest Football Club. I then follwed the Trent Canal for a short time before I arrived outside Meadow Lane, the home of Nott's County Football Club.
This was when I noticed an open gate and I was able to make my way to almost pitch side to get a photo. The route then took me through Nottingham on mainly segregated cycle lanes past Colwick Woods before heading on to Nottingham Road and the village of Burton Joyce.
The next few miles I was able to push on, a decent tailwind and a good road surface meant that I was pick up some speed and cover a few miles. It was starting to get hotter and I as reached the village of Thurgarton I decided to take a break at the Red Lion Pub.
My next stop was in Southwell where took a break to admire the spectacular Southwell Minster. Heading on to Hockerton I then stumbled across Newfield Dairy Ice Cream Parlour where stopped again to get out of the sunshine.
The country roads continued and I met yet another couple of milestones, seeing a sign for Sheffield and then passing over the A1 gave me a needed boost.
My thoughts then diverted on to where I would be staying this evening, my family were going to meet me and I needed a family room. After a few minutes I decided on the town of Gainsborough, another Travel Lodge at a cost of only £39.
The last 20 miles or so in to Gainsborough were again flat, the sun was still shining and the tailwand was pushing me along. I cycled past the second power station of the day, the Cottam Development Centre Power Station, another huge complex dominating the horizon.
Passing through Normanton on Trent then on to Skegby, Darlton, East Drayton, Stokeham and then Tresswel the cycling was very good.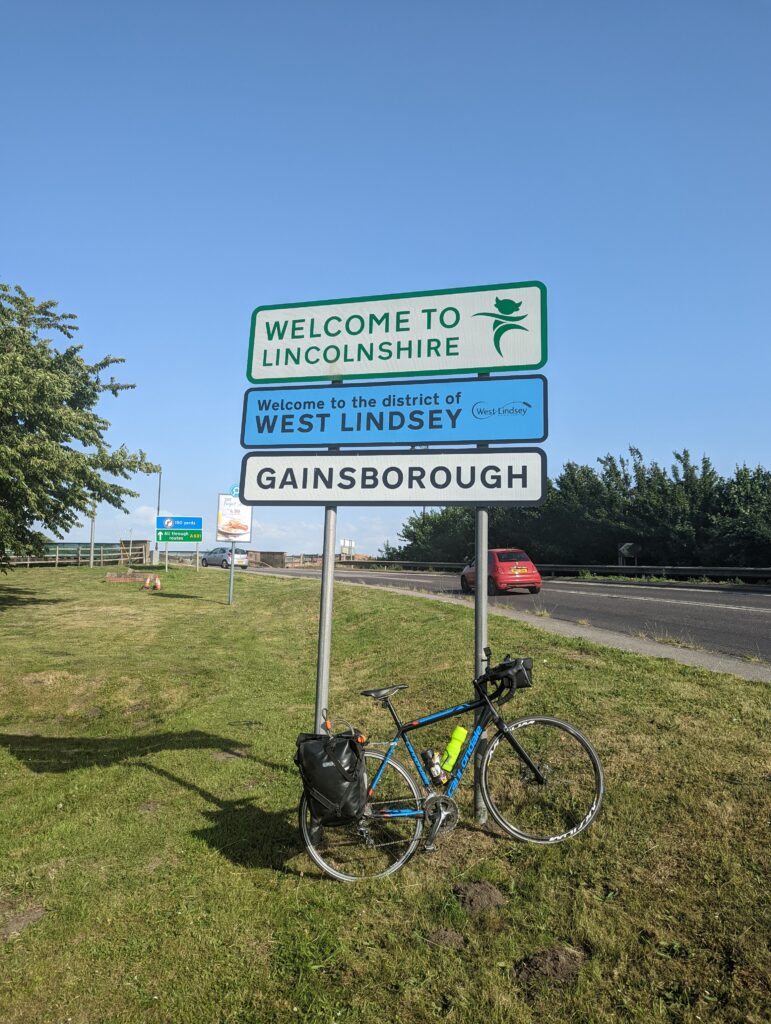 I eventually got to Gainsborough and checked in to my hotel.
Today I had cycled through Leicestershire, Nottinghamshire and Lincolshire and made some excellent progress. One thing that I found was that Nottinghamshire is a very large flat county that went on forever. The scenery was not Cornwall of Devon but the cycling was easy, very little elevation and a very good tailwind.
Suffering from a bit of sunburn after over 60 miles cycled on the hottest day of the year, I set off for yet another Wetherspoons to wind down!