My 5:55 am wake up superseded my 6:30am alarm, a restless night's sleep! Creeping around the house being careful not to wake everyone I headed for my morning coffee and a rare breakfast of porridge and blueberries.
As the house started to wake I carried out yet more last minute checks and surprise surprise everything was in order. All that was left was to pack the bike, say my goodbyes and head off. Giving the kids a kiss and hug, a last minute embrace with Polly, and a couple of photos later I was off!
The cycle to Manchester from Didsbury is 4 miles and a route I have ridden thousands of times to work at a similar time. But this time was different. I wasn't pulling in to work on Portland Street, I was going on what could be a life changing journey. A sense of caution came over me, my usual gung-ho riding style of my commute where speed was the aim to get to my desk by 9 was replaced by a desire to take it steady and take care as the last thing I needed was to become involved in an accident on my first 4 miles.
The ride was great and after arriving at Manchester Piccadilly, and collecting my tickets I approached the platform to be greeted by a wonderful Avanti West Coast employee who helped get my bike onboard! 5 stars.
Manchester to Euston with Bike Reservation
My train journey from Manchester to Euston was much the same as any other. Arriving at a busy Euston Station and cycling the short journey to Paddington makes Oxford Road in Manchester look like a quiet cycle in the country. The endless taxis, delivery vehicles and cars combined with me following Google maps through the clear top of my Ortlieb Ultimate Six made it an interesting ride, a far cry from what I was about to undertake.
Navigating a Busy Paddington Station with a Fully Laden Bike
Paddington Station complete with its brand new Crossrail station was busy! I scanned the boards looking at Trains to Heathrow, Bristol, and other places. At the end of the board, my train showed please wait, the 12.04 to Penzance, Cornwall. Platform 3 appeared on the departures board and the passengers stampeded down the platform. I was aiming for Coach B, I had a bike reservation and a seat close by.
I headed down towards the end of the platform. I noticed two lads on mountain bikes just in front and as we edged down the platform passing the other bike areas it was clear that they were heading down to coach B. I knew there were only two spaces in coach B and a sense of panic and determination overcame me. I had booked my train and bike reservation weeks before and there was no way my space was being taken.
We approached the carriage door and one of the lads got on. The other turned and said sorry there is no space here, my firm reply of I've got a reservation was met with a surprisingly warm reception. No problem and he stepped off the train to find another spot. I spoke to the other lad and they were also traveling to Penzance to cycle the West Cornwall Way. A sense of relief came over me as I took my seat, knowing I was on my way to Cornwall. One word of warning, book your bike space on the train when traveling on Avanti West Coast or Great Western Railway to ensure a smooth passage.
What was supposed to be a 5-hour journey is taking forever due to a signal failure at Truro. I planned to cycle the 20 miles to and from Lands End this evening, will I make it?
Arriving in Penzance
On arrival in Penzance over an hour late. I quickly checked in to my Airbnb and headed off to Lands End. I took the straightforward route on the A30 which was fine. The climb out of Penzance and downhill into Lands End brought back memories of my only trip to this area back in 2009. The first and last pub, the spectacular view of Sennen Cove Diary, and endless sea views across the Atlantic Ocean.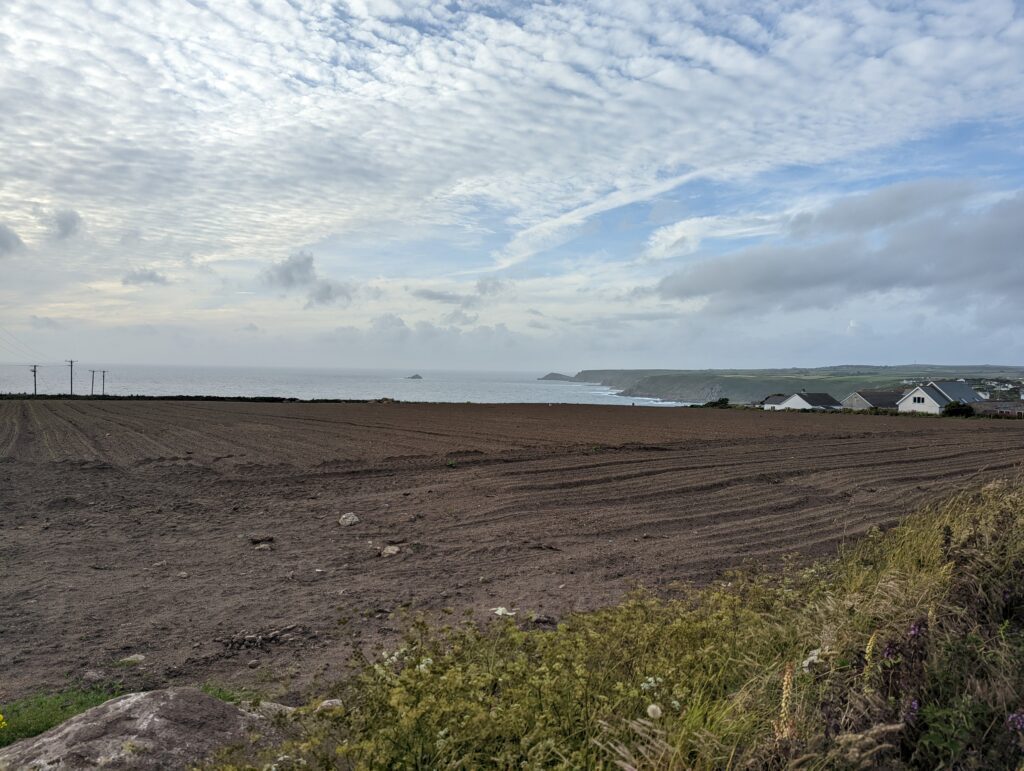 Cycling Penzance to Lands End and Back Again
On arrival at Lands End, I quickly got a few photos by the sign made easier as the attraction was closed so I hopped the fence. I chatted with a couple of people and then made a quick retreat back to Penzance. A glorious tailwind pushed me along and I was soon back at my Airbnb.
Heading off into the town centre I entered the first place I came to as I was keen not to waste time. Wetherspoons it was, not my usual choice but needs must. Penzance is a strange place, it has not got the charm of St Ives or Padstow. I called it a night when the trouble started and a young girl was forcefully removed from the premises.
I made my way back to my accommodation, the cheapest AirBnb in Penzance I could find a few weeks earlier. At £58.47p for the night it was a bargain, the basement room had a unique rustic feel, no locking door, stone staircase down to a dimly lit basement.
All in all, I accomplished what I set out to do! I had made it to Cornwall and completed the formality of photos and the Lands End sign.
MyLejog has started, 10 miles done, and nearly there!