40.92 Miles Cycled
2269 ft of Climbing

During my research when planning my ride there was one place that cropped up time and time again, The Crask Inn. This place has been described as a must visit on any Lands End to John O'Groats journey so I booked ahead and this was my destination on day 19.
Leaving Tain behind I skirted the Dornoch Firth and stumbled across the Glenmorangie Distillery. On another day I may take the tour but today time was not on my side. With the Dornoch Firth to my right I cycled passing the Dornoch Firth Bridge heading towards Bonar Bridge.
Cycling the Dornoch Firth and the Kyle of Sutherland
The views this morning were spectacular, traffic was quiet and I felt I was finally heading in to the wilderness. After about 10 miles or so I noticed a cyclist stopped ahead who seemed to be in trouble. I approached at it was here I met a young lady from Scandinavia. Again it was great to share our stories, she had been touring Scotland and called in to the Crask Inn the day before. She shared her tale of lost baggage and her having to buy new equipment. While we were heading in different directions she was looking for a view point which she had already passed. She turned back and cycled with me for a few miles before we said our goodbyes, I do hope she found her view point and managed to get her belongings back!
On the outskirts of Bonar Bridge NCN Route 1 has two options, remembering a passage in the guide about steps there was a warning sign about the Invershin Railway Viaduct. I decided to take the scenic route and take my chances on the steps.
Following the banks of the Kyle of Sutherland the route headed towards the viaduct. Carbisdale Castle could be seen in distance perched up on top of the hill.
I approached the Invershin Railway Viaduct and I have to say what an amazing piece of cycle infrastructure.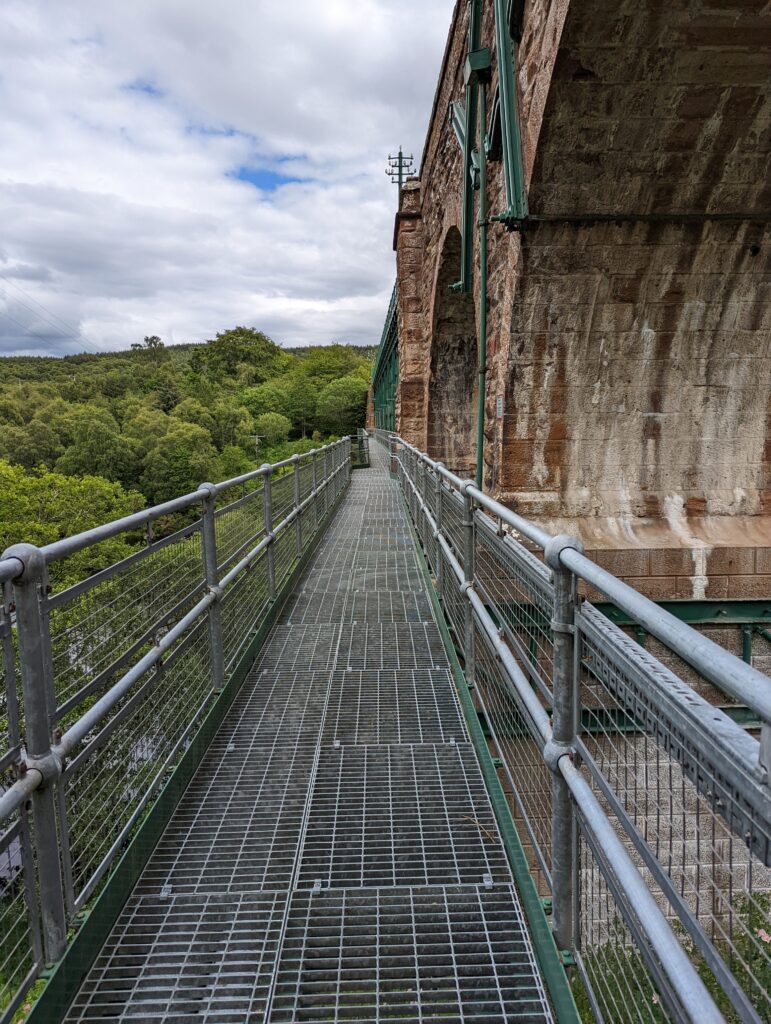 Yes there are steps but they are easy to navigate and I would recommend taking this route. I have written a blog on this, see Invershin Railway Viaduct.
I was around half to the Crask Inn and after enjoying a morning of rolling countryside I then started to climb on my way up to Lairg.
NCN 1 follows the River Shin along the B864 which is a quiet road in some stunning woodland.
Before long I arrived at the Falls of Shin, the very quiet road opened up to what would have been at one point a very busy visitors centre.
Stopping at the Falls of Shin
The Falls of Shin visitor centre was closed, it looks like it had been closed for a while. I stopped for a while and made my way down the path as this seemed to be where the few visitors were headed.
After short decent I found myself on a viewing platform perched above the Falls of Shim. A number of people were poised waiting above the falls to catch a glimpse of a salmon making its way up the River Shin
After around 15 minutes and no salmon, I headed off again! not sure it was the right time of year to see salmon jumping. I carried on towards Lairg and stopped again at the River Shin Diversion Dam before crossing the bridge in to Lairg. Lairg was the last major place I would visit before I embarked on my journey across the remote highlands. It is a small town with a very good shop!
I cycled up the massive Loch Shin for a couple of miles which in comparison to the 17 miles length of Loch Shin was only small part.
Still on NCN Route 1 the road soon turned to single track and I was now in the most remote part of my ride. The A836 follws the River Tirry up towards the Crask Inn. While it is a single track road and remote, it is not free of traffic. Delivery vans, HGV's and cars speed down this road so there is a need for caution in some places.
Cycling Through The Flow Country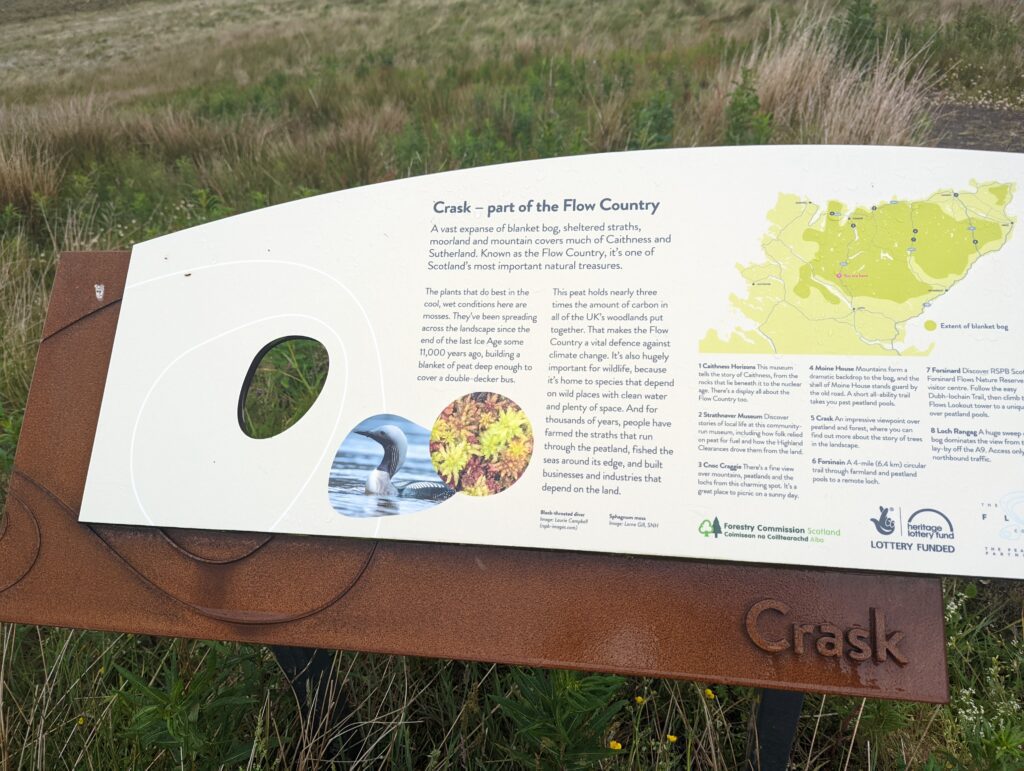 I was now entering the Flow Country which is huge bog in the Highlands of Scotland. I was still enjoying a tail wind, the same one I had enjoyed most days since leaving Lands End. The road steadily climbed and stopped regularly to take in my surroundings,
It was during one of these stops something remarkable happened. The weather was starting to turn and as I took a breather and considered taking out my water proof for the first time I noticed two cyclists behind me.
The eventually caught up with me and as always we got talking. The two men were on a charity ride from Lands End to John O'Groats. After a short time I realised that they looked familiar, it turned out that they had commented on two of my Instagram posts from earlier in my ride. One being the preaching pit i visited on day 1 in Cornwall and they other a photo of the oil rigs on the Cromarty Firth.
It was really good to meet them, Michael and Dave have raised over £70,000 for Chance for Childhood and I have to say well done to those lovely guys! After a few minutes chat they went off to finish on the North Coast and I cycled the last few miles to the Crask Inn.
The rain continued and the purchase of a new waterproof had not been a waste of money.
Yet another fantastic day!