Welcome to My LEJOG, a guide to cycling end to end from Lands End to John O'Groats, the ultimate bike ride in the UK. For years I have admired cyclists who have undertaken one of the most challenging cycle rides in the United Kingdom.
Riding from the southern tip of England to the Northern tip of Scotland is as I see it a challenge and a journey that all keen cyclists should do. Whether you do it for charity or in my case as part of a midlife crisis, it is sure to be a cycling adventure that you will never forget.
This website has been created to document My LEJoG, my ride from Lands End to John O'Groats in June 2022 as well as acting as a guide for those who dream to do it.
From the up and down hills of the country roads of Cornwall and Devon to the Somerset Levels and South Midlands, the cycle paths of the stunning coastline of the North East of England, and then on to the spectacular scenery of the Highlands of Scotland.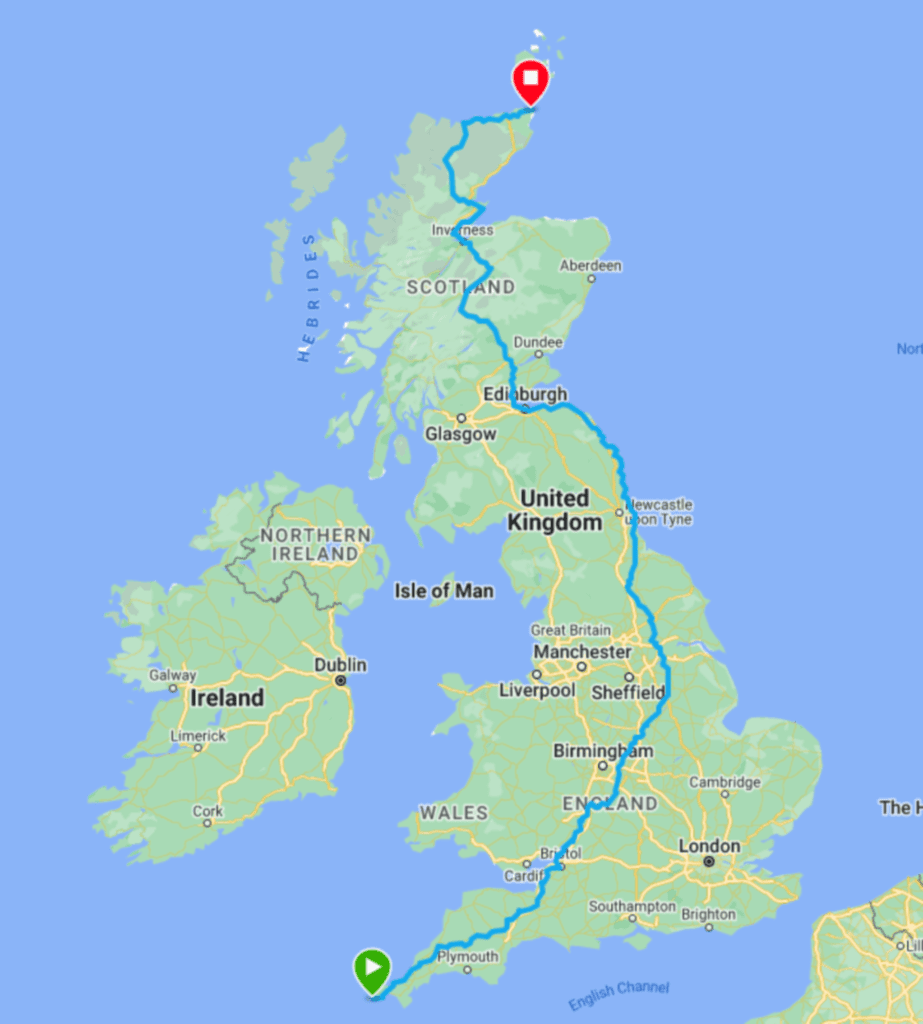 This guide to riding the length of the UK from Lands End to John O'Groats, a unique cycling challenge, will tell you all you need to know about how I did it and what happened along the way.
Why Cycle Lands End to John O'Groats?
That is a question I have been asking myself since I decided to take a break from work at the ripe old age of 45 and take on the near 1000 miles across the UK. Cycling has always been a passion, whether it be the 4 miles each way on my daily commute or the longer rides I have done, I have always enjoyed riding my bike and to me this is a ride I have always wanted to do.
What was my Inspiration to Tackle LEJOG, the Ultimate Cycling Challenge?
A thirst for travel, a two-year lockdown, and countless hours watching YouTube videos about various other cyclists completing their end-to-end rides. The homepage is just the start of this adventure! look around and maybe you could be inspired to cycle LEJOG.
What is covered in my Guide to Cycling Lands End to John O'Groats
This LEJOG guide explains several things from route planning, what to take, and a day by day diary of my ride. Also take a look at My LEJOG Blog, a collection of informative reviews and photos of the many interesting places I visited.
Where to Stay on Your End to End Cycle Ride
I cycled Lands End to John O'Groats over 21 days and stayed in a range of accommodation. Take a look at my day by day itinerary and find out about where I stayed and how much it cost per night.
Find out about my Training Plan for Undertaking this Cycle Challenge
Are you planning to cycle Lands End to John'Groats or John O'Groats to Lands End and need some training tips? I have created a page that explains how I trained for my End to End ride
LEJOG Route Planning
While there is no official cycle route, a thoroughly planned route is a must when cycling from Lands End up to the Northern tip of Scotland. Whether you choose an established route or decide to make your own my LEJOG route page can help you make that decision. My day-to-day LEJOG diary also gives you an insight into what I saw and where I cycled each day over 21 days.
What to pack when Cycling the Length of the UK
When cycling End to End, what to take is important, I have prepared a full kit list explaining what I took and what I found useful while riding Lands End to John O'Groats. The LEJOG Equipment list explains all you need to know.
Want to Know more about the Epic Lands End to John O'Groats Journey?
A journey from Land's End to John O'Groats is an epic undertaking, spanning the entire length of the United Kingdom from its southwestern tip to its northernmost point. This iconic route, often referred to as LEJOG is a favorite among cyclists, hikers, and adventurers seeking to experience the diverse landscapes, cultures, and challenges of Britain.
History of Land's End to John O'Groats
The journey from Land's End to John O'Groats has a long and storied history. Although it is most famous as a cycling route, it has been traveled by foot and horse-drawn carriage for centuries. The origins of the route are somewhat murky, but it likely began as a combination of local footpaths, ancient trade routes, and military roads.
The name "Land's End" dates back to the 18th century and refers to the westernmost point of mainland Britain. On the opposite end, John O'Groats, originally named after a Dutchman named Jan de Groot, is located at the northeastern tip of Scotland. The journey between these two points has captured the imagination of adventurers for generations, drawing inspiration from the sense of completing a full traverse of the island.
In the late 19th century, the route gained popularity among long-distance cyclists, and the first recorded end-to-end cycling journey was completed in 1885. Since then, the route has evolved and become more accessible, with dedicated paths and well-maintained roads that cater to the modern-day adventurer.
The Appeal of the LEJOG or JOGLE Journey
What is it that draws individuals to embark on the epic journey from Land's End to John O'Groats? The appeal is multifaceted, encompassing physical challenges, breathtaking landscapes, cultural exploration, and a sense of accomplishment.
Physical Challenge: The journey covers approximately 1,000 to 1,200 miles (1,600 to 1,900 kilometers), depending on the chosen route. It tests the endurance and resilience of cyclists and hikers, making it a challenging physical feat that requires months of preparation and training. The undulating terrain, varying weather conditions, and long daily distances create a grueling but rewarding adventure.
Scenic Beauty: One of the most enticing aspects of the LEJOG journey is the ever-changing scenery. Participants witness the beauty of the British Isles in all its glory, from the rugged cliffs of Land's End to the majestic highlands of Scotland. Along the way, cyclists traverse quaint villages, rolling hills, coastal roads, and serene countryside, experiencing the rich tapestry of the British landscape.
Cultural Exploration: Beyond the natural beauty, the journey offers a unique opportunity to explore the diverse cultures and histories of the United Kingdom. Participants encounter different accents, local traditions, and regional cuisine as they travel through England, Wales, and Scotland. The path takes you through bustling cities, remote hamlets, and historic sites, offering a cultural smorgasbord.
Personal Achievement: Completing the Land's End to John O'Groats journey is an achievement that many adventurers dream of. It represents a tangible and significant accomplishment that participants can be proud of for the rest of their lives. It's a testament to one's physical and mental strength and endurance.
Experiences Along the Way
The journey from Land's End to John O'Groats offers a wide range of experiences, from the physical and mental challenges to the awe-inspiring moments that will stay with participants forever.
Daily Routine: The daily routine of a LEJOG journey is marked by early starts and long days on the road. Cyclists and hikers must be prepared for a range of weather conditions and varying terrain. Carrying essentials such as camping gear, food, and navigation tools is common, making self-sufficiency a key aspect of the adventure.
Breathtaking Landscapes: The scenic diversity of the route is one of its most alluring aspects. Cyclists will witness the striking beauty of the Cornish coastline, the charming villages of the Midlands, Northumberland's scenic coast, and the remote tranquility of the Scottish Highlands. Each region has its unique appeal and visual charm.
Meeting Fellow Adventurers: The LEJOG route is a popular choice for long-distance cyclists and hikers, leading to the opportunity to meet fellow adventurers along the way. These encounters can be a source of camaraderie, shared stories, and a support network for those tackling the journey.
Historical Sites: The route is dotted with historical landmarks and attractions. From the ancient Stonehenge to Hadrian's Wall, cyclists and hikers have the chance to explore centuries of history. Visiting these sites adds a rich layer of cultural enrichment to the journey.
Local Cuisine: Sampling local food is an integral part of the adventure. From Cornish pasties to Scottish haggis, the journey offers a culinary journey through the British Isles. Pubs, tearooms, and local restaurants provide opportunities to refuel and savor regional delicacies.
Personal Reflection: As the miles roll by, participants often find themselves in moments of personal reflection. The solitude of the road, the rhythm of cycling or walking, and the vastness of the landscapes provide an opportunity to contemplate life, goals, and the meaning of the journey.
Planning and Preparation
Completing the Land's End to John O'Groats journey requires careful planning and preparation. Here are some key considerations:
Route Selection: There are multiple LEJOG route options, each offering a slightly different experience. The most direct route follows the A30 and A9 highways, but many cyclists prefer quieter roads and dedicated cycling paths. Planning the route in advance is essential.
Gear and Equipment: Cyclists and hikers must select appropriate gear and equipment. A reliable bicycle or hiking equipment, navigation tools, clothing for all weather conditions, camping gear, and provisions are essential.
Training: Physical preparation is crucial. Building endurance and strength through regular training rides or hikes is essential to handle the long days in the saddle or on foot.
Accommodation: Determine your preferred accommodation options in advance. Choices range from campsites and hostels to hotels and bed-and-breakfasts. Some adventurers even opt for wild camping along the route, but it's important to understand local laws and regulations.
Logistics: Plan logistics for transportation to and from Land's End and John O'Groats. It's common for participants to arrange transportation to the starting point and back from the endpoint.
Safety: Safety should be a top priority. Ensure you have appropriate safety gear, and share your itinerary with someone who can check in on your progress. It's also a good idea to have a basic understanding of bike maintenance or first aid skills.
In Summary
The epic cycle ride from Land's End to John O'Groats is a legendary journey that offers a unique blend of physical challenge, breathtaking landscapes, cultural exploration, and personal accomplishment. It has a rich history and a timeless appeal that continues to draw adventurers on bike and on foot from around the world. While the end to end journey is not without its challenges, the rewards far outweigh the hardships, with unforgettable experiences waiting at every turn. Whether you're a seasoned cyclist or a first-time adventurer, you will be sure to enjoy cycling LEJOG and learn some valuable life lessons along the way.