55.98 Miles Cycled
2535 ft of Climbing
After a restless night's sleep in the Station Hotel Gloucester, I had my cooked breakfast I've got my bike set up. While the Station Hotel was the cheapest hotel in Gloucester it served a purpose
. I set off through Gloucester town centre and headed for the cathedral, after spending a little bit of time at the spectacular cathedral I headed off down to the waterside to pick up my route again. This was when I experienced some more trouble with my Garmin Fenix 5.
After a short while the watch picked up the route and I set off heading north on route to Stratford upon Avon. Today's route would Take Me Out of Gloucestershire across Worcestershire and in two Warwickshire. I have never been to Stratford upon Avon before and the thought of spending the evening in Shakespeare's birthplace was good.
Cycling National Cycle Network Route 45
From Gloucester, I followed National Cycle Network Route 45 which took me North to the town of Hanbury. From Hanbury I passed through villages such as Ashleworth, Town Street, and Chaceley. The route was relatively flat today on some very quiet country roads.
I headed for the town of Tewksbury the route dictated that I had to get the ferry across the river to Tewksbury however I should have paid attention to the information in my route guide that explained the ferry was no longer in operation.
It wasn't until I got to the ferry landing I realised that the ferry was not in operation so I had to double back on myself I'm then do a longer loop around into Tewksbury.
Once in Tewksbury, I managed to get some lunch and then sat on the bridge to eat it. I then left NCR 45 and headed off towards Pershore where I spent some time at Pershore Abbey, this was one of the spectacular Churches and Abbeys I would encounter on my ride. 
From Pershaw I picked up National Cycle Route 41, I found cycling through the county of Worcestershire excellent riding from Pershore I headed down to a place called Hinton on the green and then up towards Evesham, and again in Evesham, I got some food. From Evesham, I carried on again along quiet country roads still on NCR 41 through places like Pebworth until I reached the village of Long Marston.
Riding the Stratford Greenway National Cycle Route 5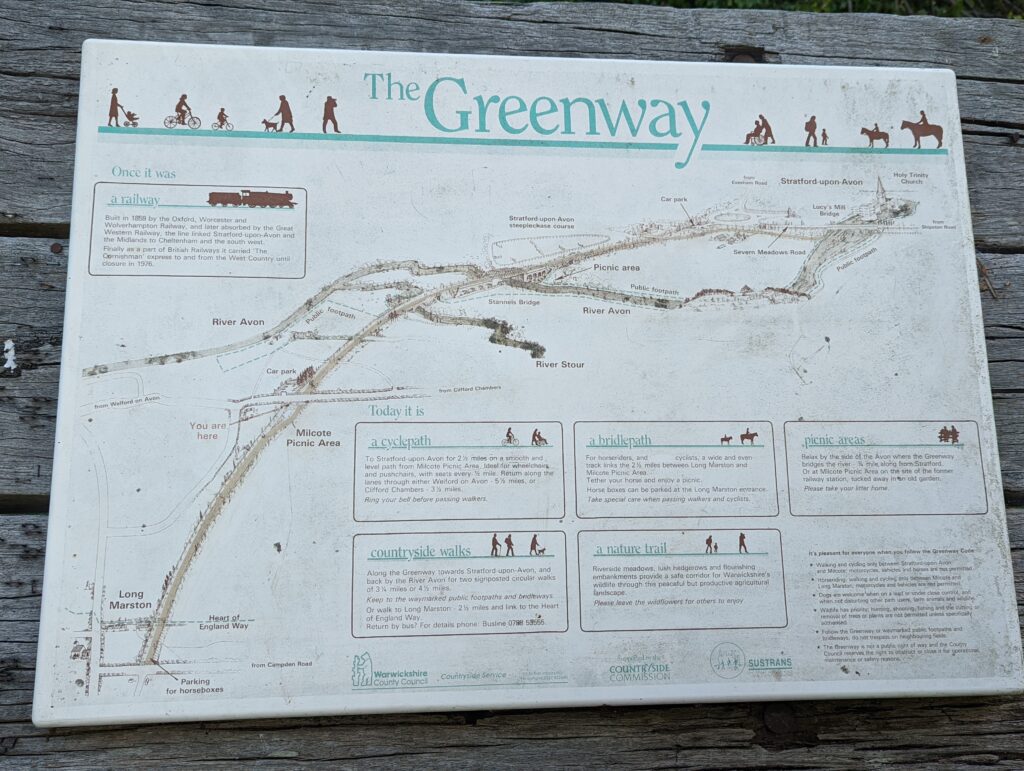 At long Marston the route took me onto NCN Route 5. NCN route 5 is part of the Greenway which links long Marston with Stratford upon Avon. The Greenway is an excellent off-road cycle route with a great surface and views across the countryside. 
I eventually ended up at Stratford Upon Avon Race Course where I sat for a while enjoying the sunshine. It was an amazing late afternoon, the sun was shining and I only had a couple of miles to go. I had booked a room at the Moonraker Guest House earlier in the afternoon, calling ahead to make sure they could accommodate my bike.
The Guest House was situated a short walk from the centre of Stratford Upon Avon and I was there in no time. I was checked in by my amazing host Morris and was led to a very clean and well-equipped room upstairs.
After a quick shower and change, I headed off into the town to do a spot of sightseeing. I carried out a whistle-stop tour of the main sites including Shakespeare's Birthplace, the River Avon, and Shakespeare Grave before I sat down for a pint and some food.
I called into The Stratford Alehouse which was an amazing small tap room with a good choice of ale.
This was a shorter day than yesterday through some amazing countryside and I was 1 week in to my 3 week adventure!
I had left the South West behind and it was now time to tackle the Midlands!