It is no secret that both Lands End and John O'Groats are situated at the most extreme ends of the United Kingdom. While both have relevantly good transport links when throwing in a bicycle and all of your kit, the planning of the start and finish of your LEJOG ride is as important as the ride itself.

I am sure you mirror my thoughts of finishing a two or three week, end to end cycle ride to find out that you are stuck in Cornwall or the Highlands of Scotland without a way to get home. With this in mind, this is how I traveled at either end.
Traveling to Penzance By Train with Bike Reservation
Traveling to and from the start of your LEJOG or JOGLE ride is by far the easiest and with a bit of forward planning can be the cheapest. Sitting back and relaxing while thinking about the ride is by far the simplest way of preparing or winding down.
Booking a reservation early will ensure that you are able to book your bike onto the train.
Some of the bike storage is tight, especially on the Great Western Railways but with a little perseverance, I was able to get my bike in.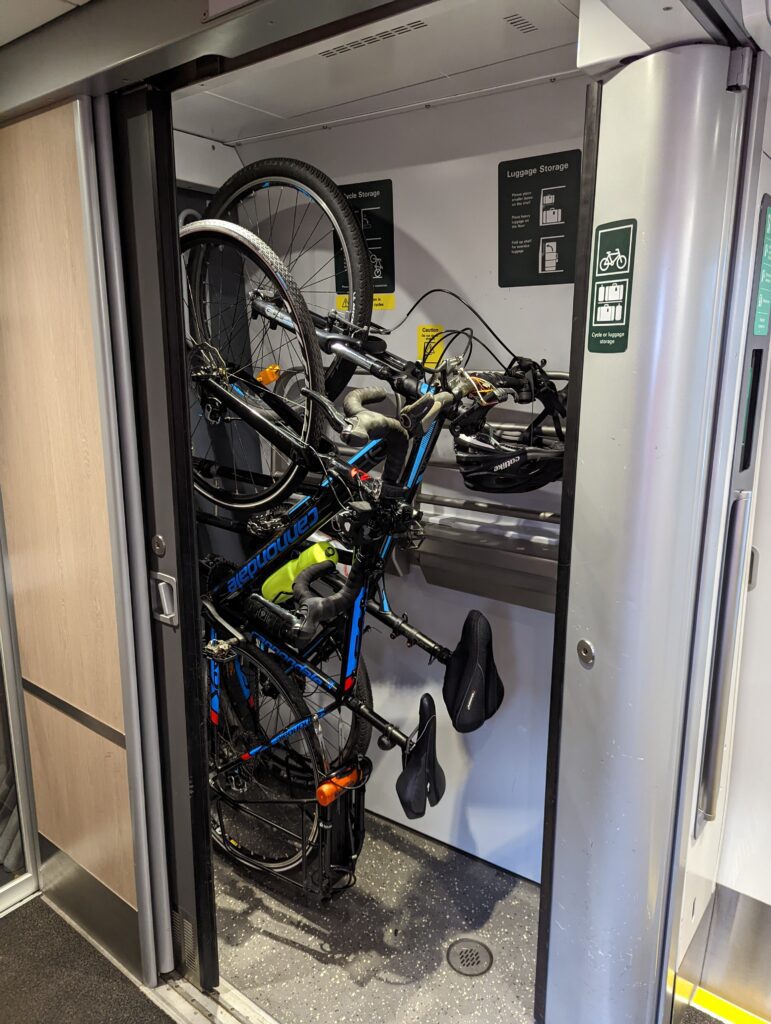 Traveling to and From Lands End By Train
The nearest train station to Lands End is Penzance which is approximately 11 miles from the signpost. Regular trains depart from London provided by Great Western Railway, all of which have cycle facilities onboard. I booked a train from Manchester to Euston with Avanti West Coast and then cycled the short journey to London Paddington to catch the train to Penzance. One word of warning is that I did pre-book my cycle space in advance. This can be done via the train providers' website or by calling them. Prebooking your cycle space will ensure that there is space for your bike.
Traveling to and From John O'Groats By Train
The nearest train stations to John O'Groats are in Wick or Thurso with Scotrail being the train company that services both. Again a pre-booked bike place is advised.

Ferry to Orkney, Overnight to Aberdeen then Train Home
An alternative to catching the train from either Wick or Thurso and the option that I chose was to travel to Orkney. The passenger ferry to Orkney leaves John O'Groats pier twice daily for only £16. Once arriving on Orkney, a short 20-mile cycle to Kirkwall means that you can catch the overnight North Link ferry to Aberdeen.

While this option seems complicated, trust me it isn't and in my case this option worked out cheaper and I got a chance to see a bit of Orkney on the way. Arriving in Aberdeen at 7 am it gave the choices of many more trains to London, Edinburgh, and Glasgow. This whole journey cost me £116 while the train from Wick or Thurso back to Manchester was coming in at over £130 with two or three changes on multiple train companies.